Vianca Rodríguez
Independent Political Analyst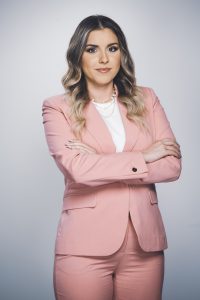 Vianca Rodríguez is a bilingual political analyst and writer with several years of experience in grassroots politics and working with conservative nonprofits such as Turning Point USA. She's appeared as a conservative commentator for various media outlets, such as Univision, El American, and Americano Media, and has written for Right Side Broadcasting Network. She has a bachelor's degree in Political Science with a Certification in International Studies from Arizona State University.
Born and raised on the island of Puerto Rico, Vianca relocated to the state of Arizona, where she was actively involved in local politics, after Hurricane Maria devastated Puerto Rico in 2017. She obtained grassroots experience working on Arizona campaigns of politicians, including Martha McSally, Moses Sanchez, and Frank Schmuck. She engaged in much door-knocking and phone banking, and even translated an entire website from English to Spanish for Moses Sanchez, who was running for Mayor of Phoenix in 2018.
Vianca has also worked with grassroots non-profits including Turning Point USA and Run GenZ, an organization focused on empowering, recruiting, and mentoring young conservatives to run for local and state office as they transform into the next generation of leaders. As a Gen Z herself, Vianca believes this work is necessary to ensure conservative majorities nationwide in the most impactful way possible — impacts that are always felt closer to home.
Now, Vianca is focused on continuing her work as a political analyst in Hispanic media outlets, getting the conservative message across to both English and Spanish-speaking audiences, fulfilling her passion for writing, and using her often unpopular opinions to dismantle and disprove typical liberal talking points.
If you would like to connect with Vianca, you can follow her growing Facebook page.